We are not currently accepting submissions for the Fulcrum Fund

The Fulcrum Fund is an annual grant program created and administered by 516 ARTS as a partner in the Regional Regranting Program of The Andy Warhol Foundation for the Visual Arts, with additional major support from the Frederick Hammersley Fund for the Arts at the Albuquerque Community Foundation. The fund serves as an essential support structure to enable artists to expand existing work and explore new directions in creating and showcasing projects that inspire curiosity, engagement and dialogue. This year 516 ARTS will offer a total of $90,000 of funding through grants of up to $10,000 to support projects strongly rooted in contemporary visual art practices.This opportunity is intended to be a springboard for independent artistic processes that are experimental and forward thinking, while celebrating projects that are produced outside traditional museum and gallery systems. 2023-2024 recipients will be announced in early March.
TIMELINE
Open Call Deadline: December 20, 2022
Jurors to make final selections: Saturday, February 17-19
Announcement: Early March
ABOUT THE FULCRUM FUND

The Fulcrum Fund is an annual grant program created and administered by 516 ARTS as a partner in the Regional Regranting Program of The Andy Warhol Foundation for the Visual Arts. Since its inception in 2016, the Fulcrum Fund has awarded a total of $645,600 to 313 artists, artspaces and organizations statewide and is one of 32 re-granting programs developed and facilitated by organizations throughout the U.S. and Puerto Rico.
ABOUT THE REGIONAL REGRANTING PROGRAM
The Regional Re-granting Program was established in 2007 to recognize and support the movement of independently organized, public-facing, artist-centered activity that animates local and regional art scenes but that lies beyond the reach of traditional funding sources. The program is administered by non-profit visual art centers across the United States that work in partnership with the Foundation to fund artists' experimental projects and collaborative undertakings.
Since its inception, the Regional Re-granting Program has grown steadily, adding new cities and regions to its national network each year. When COVID-19 hit and it became clear that artists needed a different kind of support, the Foundation's Board authorized a programmatic pivot; the existing 16 partners in the Regional Re-granting Program swiftly set up COVID-19 emergency relief funds to help artists cover basic living/medical/child-care expenses. Since April 2020, the Foundation's original 16 Regional Re-granting partners have disbursed over $1 million in emergency grants. Since March of 2020, the Foundation has doubled the number of re-granting partners in its network; 16 new programs will provide emergency funds to artists in their regions while many of the original 16 programs have already begun a second round of emergency grants. The 32 Regional Re-Granting Partners are as follows: Mobile, Birmingham & York (AL), Atlanta, Boston, Detroit, Baltimore, Chicago, Cleveland, Denver, Houston, Indianapolis, Kansas City, Los Angeles, Miami, Milwaukee, Minneapolis, Nashville, Newark, New Orleans, Oklahoma, Omaha, Phoenix & Tucson, Philadelphia, Portland (OR), Portland (ME), Providence (RI), Raleigh & Greensboro (NC), San Francisco, San Juan, (PR), Seattle, St. Louis and Washington D.C. Together these programs have supported well over 1,000 independent art projects in the past ten years, granting more than 4.7 million dollars.
JURORS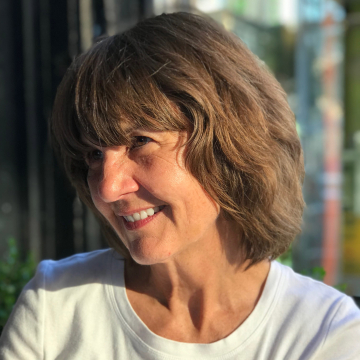 Michelle Grabner is an artist, writer, and a curator based in Wisconsin. She is the Crown Family Professor of Art and the Senior Chair of the Painting and Drawing Department at the School of the Art Institute of Chicago where she has taught since 1996. In addition, Grabner has also held teaching appointments at The University of Wisconsin-Madison, Cranbrook Academy of Art; Milton Avery Graduate School of Arts—Bard College; Yale University School of Art; and Skowhegan School of Painting and Sculpture, Maine. Grabner co-curated the 2014 Whitney Biennial and the 2016 Portland Biennial. She was the Artistic Director for the inaugural 2018 exhibition, FRONT International: Cleveland Triennial for Contemporary Art. In 2021 Grabner and Theaster Gates co-curated the 5th edition of Sculpture Milwaukee titled there is this We. Grabner is a 2021 Guggenheim Fellow and a National Academician in the National Academy of Design, a lifetime honor. Her work is represented by James Cohan in New York City and the Green Gallery, in Milwaukee among other galleries.
America Meredith (Cherokee Nation) is the publishing editor of First American Art Magazine and an art writer, critic, visual artist, and independent curator, whose curatorial practice spans 29 years. She earned her MFA degree from the San Francisco Art Institute and taught Native American art history at the Institute of American Indian Arts, Santa Fe Community College, and Cherokee Humanities Course. Northeastern State University named Meredith its 2018 Sequoyah Fellow. Based in Norman, Oklahoma, Meredith serves on the Cherokee Arts and Humanities Council board and the collections and acquisitions committee of the First Americans Museum foundation.
Julio César Morales is an accomplished artist, educator, and curator working for over twenty-five years in the contemporary art world. He is currently the Executive Director and Co-Chief Curator at MOCA Tucson. Previous roles include Senior Curator at Arizona State University Museum (2012-2022), and adjunct curator for visual arts at Yerba Buena Center for The Arts in San Francisco (2008-2012). In 2013 he was a contributing curator for the Japanese pavilion at the Venice Biennale and has curated more than 100+ exhibitions to date. His essays and writings appeared in the 2016 and 2019 Venice Biennale Catalogue and have been published by The Aspen Art Museum, Perrotin Art Gallery, Museo Jumex, New York Magazine and upcomming with Terremoto Magazine, Undoing Time (2022). His artwork has been written about in Flash Art, The New York Times, Artforum, Frieze, Art Nexus, and Art in America and can be found in private and public collections including MoMA, The Los Angeles County Art Museum, The Kadist Foundation, The San Diego Museum of Contemporary Art, Museum of Fine Arts, Houston, and Deutsche Bank amongst others. He was the recipient of the 2020 Joan Mitchell Foundation award and is represented by Gallery Wendi Norris.