Guest jurors were Michelle Grabner, artist, curator, writer, and Professor of Art at the School of the Art Institute of Chicago, and America Meredith (Cherokee Nation), publishing editor of First American Art Magazine, art writer, critic, visual artist, and independent curator. We received 118 submissions from 29 cities, towns and pueblos throughout New Mexico and awarded $90,000 to 11 recipients.
Mira Burack // Sleeping Huts // Cerrillos $5,000
Sleeping Huts is a long-term, artistic project situated in the foothills of the Ortiz Mountains in New Mexico, where earthen architectural spaces will be created with imaginative bed designs and an immersive, nurturing and sensorial sleep experience. Funding supports the first phase of the project and will engage collaborators and develop architectural plans and drawings of interior sculptural and functional elements.
fronteristxs // Ni de aquí, ni de allá // Albuquerque $10,000
Ni de aquí ni de allá is socially-engaged art space located inside of a cargo shipment container in the backyard of the fronteristxs project space. It will be a long-term art space that exists to challenge what is expected of an art gallery and champion emerging artists, experimental and performance art.
Indigenous Society of Architecture, Planning, and Design (ISAPD) // First Future Project // Albuquerque $7,500
First Future Project encompasses a range of programming sustaining the endeavors of the Indigenous Society of Architecture, Planning, and Design (ISAPD) collective and celebrates and expands on Indigenous architectural principles firmly rooted in the tracking of natural phenomena and celestial events, specifically the fall equinox. Programming includes a built installation, community art contribution, maps and drawings, a public festival, a design competition, and an on-line community book. Photo: Anjelica Gallegos
Tyler Green // Carbon, Element // Albuquerque $4,000
By photographing landscapes impacted by wildfire and working directly with carbon, in the form of charcoal, Carbon, Element explores the relationship between ecological devastation and global warming.
Dust Wave // Fronteras Microfilm Festival // Albuquerque $10,000


Organized by Dust Wave, an Albuquerque-based film collective, the Fronteras Microfilm Festival will feature films of three-minutes-or-less that address the themes of borders, enforcement, and crossings for a one-of-a-kind short film festival. Photo: Jay Renteria
Billy Joe Miller // Moving Window // Albuquerque $8,000
Designed for hospitals and inspired by the artist's own experiences of illness, Moving Window offers a comforting aesthetic in otherwise sterile spaces and brings healthcare into conversations of contemporary art.
Roger Montoya // Hope and Belonging Pathways Mural // Velarde $7,000
The Española Pathways Shelter Mural Project, Hope and Belonging, is a multi-generational response to homelessness and addiction through the creation and exposure to artistic community.
Michelle Paisano (Laguna Pueblo) // Culturally Responsive Art Education for Native Communities // Laguna Pueblo $10,000
Michelle Paisano will bring a culturally responsive pedagogy into Native communities through an experimental arts collective and include a culture-based art education, art integration, artist-in-residence, and a senior arts program.
Manuel Alejandro Rodríguez-Delgado // Contingencias Futuras/Future Contingencies // Roswell $9,500
Contingencias Futuras (Future Contingencies) is an experimental arts and technology body of work intended to develop self-built technical solutions for emerging global crises.
The Land is a Verb // Taos $9,000
Landing is a collective comprised of five artists – joseline mendoza, row särkelä, and isabel tafoya with consulting by Blackhorse Lowe. The Land is a Verb will collaboratively develop non-imperial myths related to the land of northern New Mexico across a variety of mediums and formats including 16mm film, an exhibition, and series of workshops. Photo: isa tafoya.
Submergence Collective // The Piñon Project // Albuquerque $10,000
Piñon Project explores the ecological and cultural resonance of piñon pine (Pinus edulis) in New Mexico and contends with its potential extinction due to climate change and the co-extinction of its vital mycorrhizal fungal partner, Geopora pinyonensis.
JC Gonzo (Juan Carlos Gonzalez), Santa Fe, Cuidado, $3,500

Cuidado is an independent, self-published zine featuring emerging artists based in the Southwest. Taking its name from the road-stop warning signs for rattlesnakes, this zine is a platform to bring a new and different awareness to the concepts, themes, and aesthetics explored by artists who are shaped by the region in a variety of unexpected ways. The project is organized and curated by JC Gonzo, and extends from print to virtual with an Instagram account that hosts artist takeovers and artist interviews.
Image: Cuidado issue 1, cover by Topiz
Tytianna Harris (Diné), Albuquerque, American Indians of the Southwest, $4,000

This project adds a physical experience and a video documentation component to abstract-experimental textile work to create more introspect into the life ways and design of culture in the Great Basin area. How can design reinforce the relationship between the textile and the viewer? Using 'changes in perspective,' the project explores how looking at textiles can become a conscious three-dimensional experience and examines how those dimensions can be generated into the textile via the weaving process.
Image: Tytianna Harris, American Indians of the Southwest, still from film, 2021
Jessica Krichels, Albuquerque, Pressing Letters: A Collaboration of Literary Broadsides, $7,500

This project will bring diverse poets and visual artists together in a collaborative process, culminating in the printing of handmade literary broadsides on a letterpress. The theme of the collaboration is "pressing letters" – referring to issues that are critical and urgent. Poets will write a "letter", artists will create a visual representation, and together, with expert guidance from a letterpress artist, they will use type, printing blocks and the letterpress to create their broadsides.
Image: Jessica Krichels, Dawn Kaleidescopic Heart, 5 plate photopolymer print. Scanned images of fruit combined with poetry.
Akilah Martinez (Navajo), Gallup, DigiNewMex, $7,500

Traditional New Mexican and Indigenous foods are often celebrated by New Mexicans, yet cultural representation is hardly offered through emerging technologies and digital platforms that are redefining visual communication. Using a medium that is quickly reshaping contemporary visual art, DigiNewMex is a virtual environment that brings culturally rich art to the hands of New Mexicans through an augmented reality app, enabling self-expression of personal identity with the opportunity to document individualized mixed reality experiences. DigiNewMex connects New Mexicans through a magical immersive digital landscape full of 3D artistic interpretations of a community favorite; traditional New Mexican and Indigenous food.
Image: Akilah Martinez, DigiNewMex Mock-Up Photo, 2021
Dylan McLaughlin (Diné), Albuquerque, Wires Under Tension, $5,000

Through experimental music composition, and performative installation, Wires Under Tension meditates on the acoustic ecology of place. It gives space to hear and feel what the acoustic world is speaking. At times a direct translation of the role that sound has in complex ecosystems, and at others a material investigation of the abstraction that emerges from the intersection of disruptive communication and sonic eco violence. Wires Under Tension brings into conversation the magnitude and influence of the audible world, in its fragility, vulnerability, resistance, adaptation, and transformation.
Image: Dylan McLaughlin, Dismantle A World, 2021, music performance based on legacies of Fairchild Semiconductors and the Navajo Nation.
Rosemary Meza-DesPlas, Farmington, Miss Nalgas USA 2022, $9,100

Miss Nalgas USA 2022 is a performance artwork centered on the Latina: it examines the mainstream commodification of the Latina versus the authenticity of the Latina in contemporary mass media. A faux beauty competition for self-identifying Latinas over 50, Miss Nalgas USA 2022 showcases artist Rosemary Meza-DesPlas as the character and pageant winner Miss Refried Rosi Frijoles. This satirical performance artwork poses questions about stereotypical notions of beauty and preferred figurative traits of the Latina. Socio-cultural issues of ethnic identity and aging are addressed in this performance alongside topics of colorism, self-identification, border crossing, and Latinidad.

Image: Rosemary Meza-DesPlas, Wedding dress bodice with pinto bean fabric with pageant sash for winner Refried Rosi Frijoles; photo: Rosemary Meza-DesPlas.
Karl Orozco & Michael Lopez, Albuquerque, Risolana, $9,000

Risolana is a community risograph studio in Albuquerque's South Valley. We see power in printmaking as a tool for community dialogue where personal and collective expression meet. Inspired by the New Mexican term "resolana," our resolana is a book page open to the sun. We wish to curate an annual artist-in-residence program for artists pushing the boundaries of bookmaking and risograph prints beginning in the summer of 2022. The chosen artist-in-residence will work collaboratively with Risolana to lead a public small book workshop, create a serialized artist monograph, and display their work at a culminating fall exhibition.
Image: Three Sisters Kitchen Posters for Three Sister's Kitchen Nutritional Values campaign, designed by Carlos Gabaldon, October 2021
Nayeli Navarro & Elsa Lopez, Pecos, Weaving back to Center/Tejiendo de regreso al centro, $7,500
Weaving back to Center/Tejiendo de regreso al centro is a creative, multilingual, community art practice that revitalizes the traditional art form of Backstrap Weaving, by returning to its communal and migratory origins. This art practice will visit numerous communities in New Mexico, inviting folks to weaving and dialogue together in public outdoor spaces. Eight Backstrap looms will be tethered to a central post. Participant weavers will contribute their weaving on the communal 12 feet warp, while simultaneously forming the octagonal human/weaving sculpture.

Image: Nayeli Navarro "Entremetido" weaving from art show AFTER/WAR 2018, Espanola NM
Adrian Pinnecoose (Navajo/Southern Ute), Albuquerque, Collective Equilibrium, $10,000

Collective Equilibrium looks to highlight the ongoing conversation about digital applications and fabrication in Indigenous Art. This project uses 3D software, 3D-printing, laser-cutting and graphic design and will debut in the Historical Centennial SWAIA Fashion Couture Show.

Image: Adrian Pinnecoose, digitally designed and 3D printed jewelry designs
Sara Rivera, Albuquerque, Entre nacer y caminar, $7,500
Entre nacer y caminar is a large-scale text sculpture made from cast gypsum toys found in Albuquerque's early childhood centers and home-based daycares. Through collaboration with youth artists, interviews with bilingual early childhood educators in the South Valley were conducted to learn about the work they do in their communities. The final sculpture uses text sourced from their oral histories and interviews. It will be installed site-specifically in the childcare wing of the new PCA social enterprise center.

Image: Sara Rivera: Detail of cast gypsum tools and toys.
Justin Rhody, Santa Fe, No Name Cinema, $5,000
No Name Cinema is a microcinema dedicated to showcasing experimental, avant-garde and underground film and video rarely seen elsewhere. By offering free public admission and an atmosphere that encourages engagement, we eliminate barriers to experiencing local and international films on unique physical media formats like 8mm and 16mm. We host filmmakers in attendance and offer opportunities for expanded cinema performances. The project also includes visual art exhibitions by artists operating outside of the traditional gallery system and a bi-monthly Chess & Jazz club. NNC is a DIY venture that fosters community, conversation, and support to underground culture.
Image: Flyers for in-person film screenings at No Name Cinema
We are Longing for a Future, Albuquerque, we are longing for a future [that will never come], $9,000
we are longing for a future [that will never come] is collective and a multi-phased project featuring a group of queer, trans, and Indigenous artists who collaboratively address the problematic and eroding narrative of a linear "future" of "progress" fueled by consumption, displacement of peoples and species and the commodification of the Earth. This type of future has been misleading, misrepresentative and inherently violent, especially for traditionally marginalized people, land-based peoples, and the Earth. Working with multi-media – myco-art, writing, performance, photography, sound, scent, and video installation – the artists com/post these narratives to collaboratively com/pose the future they're longing for.

Image: Beata Tsosie-Peña and Kaitlin Bryson "Many Hands" mycoremediation installation in DinéTah, for we are longing for a future [that will never come]
Adrian Wall (Jemez Pueblo), Ponderosa, Reconnecting - Time, Self and the Celestial, $9,000
Inspired by the earth works and technology of his Pueblo Ancestors, this project is a site-specific, mixed-media sculptural installation that explores our natural relationship to celestial concepts of time. Reconnecting - Time, Self and the Celestial is a working celestial calendar that creates a place for reflection–a space to leave the hustle and bustle of everyday life behind and experience time as days or seasons rather than minutes and seconds.
Image: Adrian Wall, granite prototype for sculptural component for installation

The Fulcrum Fund gave 255 Covid-relief grants totaling $321,000 in 2020 and 2021 to independent visual artists and artspaces in New Mexico. Major supporters were the Frederick Hammersley Foundation (now the Frederick Hammersley Fund for the Arts at the Albuquerque Community Foundation), the Andy Warhol Foundation for the Visual Arts, the Flower Hill Institute, and Woodcraft Circle.
Guest jurors were Evan Garza, Former Director Rice Public Art, Houston TX; Mónica Ramírez-Montagut, Director Newcomb Art Museum, Tulane University, New Orleans, LA; and Imin Yeh, Artist & Assistant Professor of Art, Carnegie Mellon University, Pittsburgh, PA. The applicants were from 12 cities within an 80-mile radius of Albuquerque. They selected 10 proposals from a total of 114 submitted for $60,000 in grants.
Roberto Appicciafoco, Albuquerque • Queer X • $7,500
Queer X focuses on experimental filmmakers working internationally while tracing queer aesthetics through historical works, presenting quintessential LGBTQ film and video, alongside up-and-coming artists and filmmakers. The program(s) showcases contemporary works by queer artists alongside works by their historical predecessors in queer-oriented film and video. In addition to the art film screenings, there is a lecture series and a Q & A with the invited filmmakers as well as an exhibition catalog.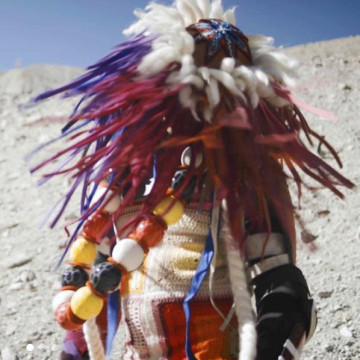 Jade Begay (Diné and Tesuque Pueblo), Santa Fe • Cosmo Vision • $8,000
Cosmo Vision is a virtual reality and short film series featuring three multimedia Indigenous and immigrant artists. Each artist will take the viewer on an intimate journey through their creative process and provide perspective into how their cosmologies impact their future outlook and art production. Each artist's perspective creates a just and liberated world in which Indigenous and migrant peoples experience restored self-determination.
Cannupa Hanska Luger, "The One Who Checks & The One Who Balances" site-specific land acknowledgement, Taos, NM for Jade Begay's "Cosmo Vision" photo by Dylan McLaughlin
Ayrton Chapman, Los Lunas • Edible Carnival • $5,000
Edible Carnival is a techno-grotesque traveling eco-spectacle that creates and tours interactive sculptures and performances that delight and educate. Carnival Games is a new series of smaller works designed to be portable and installable anywhere. Funding goes towards the development of a new line of games based on classic favorites with a twist, and explores ecology, food production, and power systems.
Karina Faulstich, Albuquerque • Wilderness Mute • $4,000
Wilderness Mute is a multidisciplinary performance weaving together music, installation, and Butoh dance that commemorates the 75th anniversary of the atomic bomb. Inspired by personal stories from Hiroshima, Nagasaki, and affected communities of New Mexico, this project is a statement about the urgency of preventing further nuclear war and disasters.
Hernan Gomez Chavez & Yvette Serrano, Santa Fe • Querencia • $6,500
Alluding to belonging and home, Querencia is a mobile art piece that uses a bicycle to pull a trailer that looks like a mobile home. The trailer isa walk-in space that directly engages Santa Fe's South side community. Using public engagement, Querencia speaks to housing issues and the history of segregation and displacement in Santa Fe.
Jonathan Hartshorn, Albuquerque • Calendar • $8,000
Calendar is a backyard gazebo located in Albuquerque's Highland neighborhood that showcases the work of contemporary artists through exhibitions and special project. Support from the Fulcrum Fund supports a 2020 program of solo exhibitions featuring Eve Fowler, Sun You, Joshua Abelow, Jeffrey Tranchell, and Stephen Maine.
Kate Kendall, Santa Fe • Rio Grande Flow • $4,000
Rio Grande Flow is a collaboration between art and geology that will consider the past, present, and future flow of the Rio Grande River. Kendall is creating and exhibiting sand peel sculptures and a small publication meant to capture and depict the strata of the sediment deposits in the upstream part of the Rio Grande River System. The publication delves deeper into describing the sand peel sculptures and develops a narrative of flow (flow of water, sand, people, and time) that highlights the social history and geopolitics of the Rio Grande in Northern New Mexico.
Nuttaphol Ma, Santa Fe • ".. with Liberty and Justice for All" • $3,000
"… with Liberty and Justice for All" is a zine publication that chronicles Ma's forthcoming durational performances of stitching onto his appropriation of the U.S. flag at sites of public gatherings, sites of arrivals and departures and sites of longing. The work examines how Ma's action and the sharing of his rewritten pledge of allegiance counter the recent xenophobic rhetoric made by the President of the United States when he told four congresswomen to "go back to their country." The socio-political intervention invites curious passerby to meaningful conversations on how we can re-imagine the pledge of allegiance to achieve a more equitable space.
Ruben Olguin, Bernalillo • Past Futures • $6,000
Using archival imagery, histories, and maps of Albuquerque's South Valley and Barelas neighborhoods, Ruben Olguin leads the creation and presentation of two public exhibition video mapping and sound performance events. The project works with local student organizations to create performative events at sites throughout Albuquerque, as well as the production of digital artworks of sound, video, which incorporate maps, media, and documentation about the histories and contributions of People of Color to the Albuquerque area.
Grace Rosario Perkins (Diné/Akimel O'odham), Albuquerque • Couples Therapy • $8,000
Couples Therapy is a space and publisher that presents New Mexico-based artists and ideas through a lens of intentionality and intersectionality, by creating a conversation that enriches and redefines the landscape of contemporary New Mexican art. Through curatorial pairings, DIY aesthetics, and a year of programming, Couple Therapy provides exhibitions, Risograph books, and poster editions in what is both part gallery and part classroom for community based workshops, drop-in Risograph publishing, and public events.
Guest jurors were Louise Martorano, Executive Director, RedLine, Denver; Nancy Marie Mithlo (Chiricahua Apache), Visiting Scholar, UCLA Institute of American Cultures American Indian Center; and Hamza Walker, Executive Director, LAXART, Los Angeles. They selected 10 recipients to receive a total of $60,000.
1000 Tiny Mirrors, Santa Fe • Reverence/Rage • $10,000

Activating creative spaces for queer/trans/non-binary/two spirit and BIPOC (black, indigenous, people of color) to portray individual and communal self-determined artistic expressions in a Rock Opera performance, community art-making and a film screening. Collaborators include Mimi Madrid Puga, Allesandra Ogran, Nikesha Breeze, Patricia Trujillo, Rafa Tarin among others.


Autumn Chacon (Diné/Xicana), Albuquerque • New Mexico Common Media • $6,000
A New Mexican-based, online gallery, featuring a home-grown, independent, artist-centered version of YouTube where viewers can readily access and stream content by community members. In collaboration with Margaret Wright. 


Autumn Chacon, Noise Cooking, Raven Row, 29 April 2017, 56 Artillery Lane, Photo by Mark Blower
Barbara Grothus, Albuquerque • BLACK HOLE/Atomic City • $5,000

Challenging the dominant nuclear narrative maintained by Los Alamos (and others) for almost 75 years, this project spotlights the artist's father, "Atomic Ed," an entrepreneur and creative anti-nuclear activist who created the Black Hole: a business, collection, destination, tourist attraction and curiosity. Collaborators include Erika Wanenmacher, James Hart, Matthew Chase-Daniel and Thomas Powell.


Alicia Inez Guzman, Santa Fe • Cafecito Collective • $5,000

A QTPOC-first collective focusing on the creativity, wellness and safety of the Norteño community (Santa Fe/Española) by sharing resources and knowledge, organizing toward equity, and making art in their central Santa Fe location on the Railyard. In collaboration with Alicia A. Martinez.
Adam Horowitz, Santa Fe • DEUS ATOMICA - 'ATOMIC GODS' • $7,000

A surrealistic, satirical short film based on 'guerrilla-theater' public performance events filmed in Albuquerque, Santa Fe, Los Alamos and elsewhere in New Mexico, revealing the secret mythical, magical, and supernatural forces behind the Manhattan Project in Los Alamos during the making of the first atomic bomb. Collaborators include Isolde Kille, Drew Lenihan, Matthew Chase-Daniel, Willem Malten, Brian Moe, Nick Deamer, Steina Vasulka, Sadaf Cameron, Igor Vamos, Alex Reed, and Meridel Rubenstein among others.
Lena Kassicieh, Albuquerque • Daftar Asfar: The Collaborative Sketchbook Project • $3,000

A traveling sketchbook conceived from the notion that art should be accessible, a nourishing way of life and a collaborative communal experience. In collaboration with Samantha Andrews.
Erica Lord, (Inupiaq/Athabaskan) Santa Fe • Remembering James Luna • $6,000

Working with local artists and students from the Institute of American Indian Arts, the artist will create and collaborate on a series of performances, readings an exhibition and a workshop/symposium to honor and learn from the work of the late James Luna.
Lance Ryan McGoldrick, Albuquerque • Lost Highways • $5,000
A series of static, large-scale sculptures and interactive installations along old highways in New Mexico viewed via road trip as a series of destinations and singular surprises. 


Larry Bob Phillips, Albuquerque • The FRACKING of Sandoval County • $3,000
A 16-page comic depicting the people and dynamics in the fight over resource extraction in the Albuquerque Basin and outlining the history of Rio Rancho and intensifying efforts to exploit petroleum adjacent to the Rio Grande aquifer. In collaboration with Mark LeClaire.
Valerie Roybal, Albuquerque • For-Get-Me-Not: Words and Images on Living with Incurable Cancer • $3,000
Using images from women of the past as a basis for transformation, the artist visually explores the idea of "wearing" the disease and overtly presenting feeling about the disease—inside out through a book and an exhibition. In collaboration with Martha Carlson.


Scott Williams, Albuquerque • Vitrine: An Art Place • $7,000

Vitrine is an exhibition and community space in Downtown Albuquerque, run by a collective of three artists dedicated to supporting and cultivating underrepresented artists and providing space for our community to share its artistic and practical skills through art exhibitions, workshops and other events. Collaborators include Anna Reser and Jaime Tillotson.
Jazmyn Crosby, Albuquerque • GRAFT Gallery/Collective • $5,000
GRAFT is a gallery space in the Barelas neighborhood by a collective of five artists whose goal is to provide artists with freedom to experiment with non-commercial, site-specific and ephemeral work, and to present unconventional, thought-provoking work to a broader public. The project includes new exhibitions, programming and public events at the gallery for the next 10 months and will allow for the expansion of existing programming to include professional development and skill-share workshops.
Ayrton Chapman, "Oil Painting" 2017
Diana Delgado, Albuquerque • So This is Art • $5,000
So This Is Art (STIA) is an experimental art collaboration that creates original performances through a collaborative process that utilizes public input to generate specific types of information or raw material from which they will create the show. The project includes a performance and its subsequent documentation that will be used to promote free workshops and STIA's continued artistic practice.
Caley Dennis, Santa Fe • Radical Abacus • $5,000
Radical Abacus is an artist-run, DIY exhibition space in a converted warehouse in the Siler/Rufina industrial zone of Santa Fe and aims to encourage the making and showing of rigorous work by emerging artists with an emphasis on the experimental and installation-based art. Funding will support the presentation of 6 public exhibitions over the course of a year, as well as a handful of additional one-night performances and screenings.
Caley Dennis at Radical Abacus, 2017
Ray Hernández Durán, Albuquerque • The Alchemical Trace: Transformation and Resilience in Recent Work by LGBTQIA Artists • $5,000
This exhibition is meant to open in conjunction with the 15th annual Southwest Gay Lesbian Film Festival, the largest event of its kind in this region of the country. With a focus on community resistance and survival, the exhibition will include recent work by a diverse group of emerging LGBTQIA artists from NYC, Chicago, San Francisco, L.A., Las Vegas, and Albuquerque, who address themes of healing, growth, memory, and persistence in their art. In addition to the exhibition, there will be a lecture series, art lm screenings, and an exhibition catalogue that will be free to the public. Read the review in THE Magazine.
Erol Scott Harris II, "Heat," 2015, photograph
Joanna Keane Lopez, Albuquerque • Resolana • $3,500
Resolana is a public art project composed of a south-facing, half-mooned adobe sculptural wall embedded with mirrors that reflects the audience and landscape. Derived from the New Mexican term that means "the place where the sun shines," Resolana will act as a public art space for dialogue and performance and remain a place in the community where people can gather to converse, share and reflect.
Nizhonniya Austin, photo by Joanna Keane Lopez
Blackhorse Lowe (Navajo), Albuquerque • Dancing Earth Documentary • $5,000
Dancing Earth is an indigenous contemporary dance company created by Rulan Tangen. Funding for this project will go toward the creation of a full-length documentary focusing on the artistic process of creating, collaborating and articulating movement from beginning to end.
Manuel Montoya, Albuquerque • Vessels & Voids • $3,000
Vessels and Voids is a podcast about the intersections of globalization and creativity. Each episode explores a void in our world along with vessels we use to orient ourselves and create meaning. From natural and man-made voids (oceans, deserts and failing nation-states) to both literal and abstract vessels (ships, borders, art, objects, money and Marvel Avengers), this podcast weaves together artist perspectives, community voices, academic research, classic literature and popular culture (visual, material and musical) in pursuit of answering timeless questions about meaning, truth, creativity and connection.
Listen https://www.buzzsprout.com/200194
Shannon Murphy, Santa Fe • The Art of the Machine • $5,000
The Art of the Machine is a block-party-style event that showcases artists, makers, creators, performers, crafts people and mad scientists who work at the interface between art and machine. The event takes place within the Siler/Rufina Nexus, the industrial district in the heart of Santa Fe where artists of all kinds work alongside tradespeople and mechanics, drawn by the availability of low-cost space. The Art of the Machine celebrates the identity of the district and highlights the creative potential of the overlap between its contrasting subcultures by showcasing machine-centric visual, functional and performative art.
Candy Nartonis, Albuquerque • Migrations • $5,000
Migrations is an exhibition and series of events that seeks to contextualize and document the current public debate about immigration and sanctuary.
Zeke Peña, "A Nomad's Heard" (detail)
Amy Pilling, Santa Fe • Life Arts Laboratory • $5,000
Life Arts Laboratory (LAL) is a modular, mobile studio for artists to experiment with and create artworks inspired by living organisms and nature's processes. Designed as a mobile, reusable kit, numerous art projects may use LAL. LAL will be loaned to artists or organizations so the public can access hard-to-find materials and equipment to create artwork and exhibitions inspired by nature and scientific observation.
Ahni Rocheleau, Santa Fe • Stand • $3,500
Confluence Collective, a core partner for the Equal Justice artist residency at the Santa Fe Art Institute in April 2018, will convene artists and regional indigenous environmental activists to plan a participatory sculptural installation/performance. Consisting of sculptural objects, human bodies wearing art based attire and multi-media projection, Stand will express an aesthetic, yet studied response of the environmental racism history in New Mexico's energy sacrifice zones of the Greater Chaco region. This project aims to galvanize for greater climate justice action and consciousness, safe air and water, and a habitable environment and climate.
Ahni Rocheleau, "Civil Defense Fund Drinking Water Canisters" 2016
Bucket Siler, Santa Fe • Santa Fe Zine Fest • $5,000
Santa Fe Zine Fest hosts a yearly free festival that celebrates zines, comics and other forms of alternative press and DIY media with the goal of encouraging a greater community between diverse creators of independent publications and art in Northern New Mexico. Now in its second year, the festival spans over 24 zine publishers, showcasing their independently published art, illustration, photography, comics, poetry, fiction and non-fiction.
Nancy Zastudil, Albuquerque • Visiting Curator Series • $5,000
Independent curator Nancy Zastudil will initiate a Visiting Curator Series by inviting three curators to visit Albuquerque to meet with numerous local artists for the purpose of increasing their exhibition opportunities and professional relationships. Artists will be selected through an open call from which the visiting curators will select the artists to visit. Each visiting curator will give a public talk that incorporates their experiences with the local artists they have visited.
photo of Rotem Rozental
Guest jurors: Romi Crawford Ph.D. Associate Professor in Visual and Critical Studies and Liberal Arts at The School of the Art Institute of Chicago (SAIC); Al Miner, Assistant Curator of Contemporary Art at the Museum of Fine Arts, Boston; and Joey Reyes, Curator of Engagement & Dialogue at Movimento de Arte y Cultura Latino Americana (MACLA) in San Jose, California. They selected 11 recipients to receive a total of $50,000.
Russell Bauer, Albuquerque • The Edible Carnival •$5,000

The Edible Carnival is an ongoing sculptural research project in the form of a traveling farm comprised of surreal and spectacular implements of agriculture, food handling and food distribution. The Edible Carnival is an exploration of new and old technologies, performed and explained for a wide audience. In addition to staging The Edible Carnival in public locations for demonstrations and viewer interaction, artist Russell Bauer will create an open source database of technical documents for his Rotisserie Chariot and Rotisserie Rickshaw, two theatrical nomadic rotisseries that uses steam and thermoelectric power to cook food.
Sheri Crider, Albuquerque • LAUNCH Sculpture Residency at The Sanitary Tortilla Factory • $5,000
LAUNCH is the first chapter of an innovative residency project based at The Sanitary Tortilla Factory in downtown Albuquerque. A curatorial team will select two artists/groups to participate in two, six week projects that emphasize community engagement components. The program will focus on two types of sculptural production: waste stream utilization and socially engaged projects. The artists selected for the residency will be able to utilize the fabrication and exhibition spaces at The Sanitary Tortilla Factory (STF). The residency will consist of an exhibition, public talk and an educational component in which the artist will present material pertinent to waste and recycling to local high school students.
Christine Wong Yap
Ginger Dunnill, Glorieta • Broken Boxes Podcast • $3,500

Broken Boxes Podcast is an interview format project which highlights primarily Indigenous and activism-based artists who are affecting change through their work. This podcast platform allows for the artist to speak in their words, about their ideas. The question at the core of this project is simply: What makes the human make the art? In August of 2017, Ginger Dunnill and collaborator Cannupa Hanksa Luger will organize and exhibition of new works comprising 50 artists who have been featured on Broken Boxes Podcast since 2014.
Bradford Erickson, Albuquerque • The Small Engine Gallery • $5,000

The Small Engine Gallery is an alternative exhibition/multi-use space that is dedicated to creating new opportunities for local artists to bring their practice out of the studio and into an open format creative space. Lead artist Bradford Erickson and collaborators Jackie Riccio and Luke Hussack work to foster the creativity, personal expression and artistic development amongst the community by focusing on the education of both students and emerging artists on the finer points of being a practicing artist. This award from the Fulcrum Fund will go towards general operating expenses for their 2016/2017 exhibition schedule and allow the Small Engine Gallery to continue to their mission of supporting local artists by providing a space to present their work free of charge.
Roberto Espinosa, Albuquerque • SHE/RIDER • $5,000
Lead artist Roberto Espinosa, cinematographer Michael Powers and sound engineer Christopher Robleto-Harvey, will explore gender diversification in car culture in their project titled SHE/RIDER. The male, Latino-dominated "boys club" of low-riders has witnessed a paradigm shift: women creating show-worthy muscle cars. Once relegated to the role of "cheese cake" pinups, women are now revving V-8 engines and starting their own car clubs. This work explores the community of these women. The project will be featured as a multi-media construct: various platforms become its voice and venue. The viewer can visit an interactive website, listen to interviews and see the cars. Car clubs will share content online and still photographs will be shown in various venues.
Jane Gordon, Albuquerque • What Becomes • $3,600
Acknowledging the often collaborative nature of ceramics, artists Jane Gordon and Jennifer DePaolo will gather neglected plaster molds from collections around the city, and invite the public to create communal sculptures by pressing clay into them to capture their form. This newly re-appropriated odd cast of characters left behind from late 20th century knickknack manufacture will be transformed into a sculptural installation that reveals new truths about our culture, identity and agency.
Aryon Hopkins, Albuquerque • DRY MTN • $4,700

Lead artist Aryon Hopkins and collaborators Jesse Littlebird and Eric Martinez will create a large format printed publication focused on photography and screen printing that will be distributed for free throughout the city. To celebrate the launch of each issue, popup printing parties will provide a unique opportunity for the public come together to screen print additional graphics and content from participating artists onto each publication and assemble each issue for themselves.
Candice Hopkins (Carcross/Tagish First Nation), Albuquerque • Off Lomas • $5,000

In December 2015, a privately-owned narrow strip of land (an "odd-lot," left over from the widening of Lomas Blvd), was transformed into a site to exhibit public art. Off Lomas hosts temporary artworks by four artists per year. Off Lomas curators Candice Hopkins and Raven Chacon will use funds to support artist fees, materials, and marketing for works by leading international and local artists Jimmie Durham, Rebecca Belmore, Ellen Babcock, Jason de Haan & Miruna Dragan, and Black Spirituals.
Ellen Babcock, Holdraketa, photo by Eric Williams
Marya Jones, Albuquerque • ABQ Zine Fest (ABQZF) • $4,700

ABQ Zine Fest is an annual, free public event that celebrates DIY (do-it-yourself) and unconventional artistic expression. Albuquerque's vibrant zine and independent publishing culture is inclusive of professionally-trained, self-taught and amateur artists alike, all of whom are committed to community, intellectual and artistic exchange. Now in its 6th year, it is the only festival in New Mexico for zinesters to meet, exchange and discuss their work with the public, and to form new creative collaborations, yielding further artistic exploration. ABQZF allows artists a platform to present their work whose mode of production and subject matter often exists outside of mainstream gallery and museum systems. Through workshops, discussions and the exchange of ideas, ABQZF nourishes the expansion of zine creation in Albuquerque and highlights the innovation and diversity found in zine making.
Billy Joe Miller, Albuquerque • Loie Fuller-inspired performance/installations • $3,500
Lead artist Billy Joe Miller and collaborator Allie Hankins will create an outdoor performance and installation inspired by their mutual interest in Loie Fuller. As a pioneer of modern dance, Fuller is best known for her way of manipulating voluminous folds of silk illuminated by colored light. As a means of combining shared interests of dance/performance, textiles as the transformative capabilities of costuming, light installation, feminism and/or the queering of the feminine in relation to the male gaze, Miller and Hankins will present a performative meditation on these themes that will manifest as an opulent, textured, and immersive performance and installation that interweaves respective art practices.
Daisy Quezada, Santa Fe • Present Cartographers • $5,000
The collective, Present Cartographers (Daisy Quezada, Lois Klassen & Sylvia Arthur), will develop a publication exploring artistic responses to the timely and controversial issue of immigration/emigration. Focusing on art made in and about Albuquerque's border zone region, this team of artists and writers emerging from Santa Fe Art Institute's (SFAI) "Immigration / Emigration" thematic year in 2015/2016 will produce an innovative collection of texts and print-based artworks. Link to view the chapbook: https://loiszing.blogs.com/files/terreno.pdf
Artwork by Isreal F Haros Lopez