Submissions to the 2022 Fulcrum Fund grant cycle are currently closed, check back in mid January for announcements

The Fulcrum Fund is an annual grant program for visual artists created and administered by 516 ARTS as a partner in the Regional Regranting Program of The Andy Warhol Foundation for the Visual Arts, with additional support from the Frederick Hammersley Fund for the Arts at Albuquerque Community Foundation. The Call for Proposals is now closed. For the 2021-2022 grant cycle, the Fulcrum Fund is returning to project-based granting after the last four cycles that were focused on Covid-relief grants for artists. A total of $90,000 will be distributed to support the development and presentation of independent, artist-led projects and programs. Examples of funded projects are new exhibitions or exhibition series, the ongoing work of an experimental arts venue or collective, public art projects, one-time events and performances, publications directly related to the visual arts, online projects, artist residencies and film festivals, to name a few. The Fulcrum Fund serves as an essential support structure to enable artists to expand existing work and explore new directions in creating and showcasing projects that inspire curiosity, engagement and dialogue. It is intended to be a springboard for artistic processes that are experimental and forward thinking, while celebrating projects that may not fit into the traditional museum and gallery systems.
This year's jurors are Laura Copelin (MOCA Tucson & Ballroom Marfa), Kathleen Ash-Milby (Navajo), Portland Art Museum, Portland, OR, Marvella Muro (Self Help Graphics, Los Angeles, CA)
Since its inception in 2016, the Fulcrum Fund has awarded a total of $552,000 to 300 artists, artspaces and organizations statewide–including $321,000 of COVID-relief funds distributed in 2020-2021 to visual artists, artspaces and non-profit organizations that lost income due to the pandemic.
QUESTIONS?
Contact Fulcrum Fund Program Manager, Claude Smith claude@516arts.org, 505-242-1445
ABOUT THE FULCRUM FUND

The Fulcrum Fund is an annual grant program created and administered by 516 ARTS as a partner in the Regional Regranting Program of The Andy Warhol Foundation for the Visual Arts. Since its inception in 2016, the Fulcrum Fund has awarded a total of $552,000 to 300 artists, artspaces and organizations statewide and is one of 32 re-granting programs developed and facilitated by organizations throughout the U.S. and Puerto Rico.
ABOUT THE REGIONAL REGRANTING PROGRAM
The Regional Re-granting Program was established in 2007 to recognize and support the movement of independently organized, public-facing, artist-centered activity that animates local and regional art scenes but that lies beyond the reach of traditional funding sources. The program is administered by non-profit visual art centers across the United States that work in partnership with the Foundation to fund artists' experimental projects and collaborative undertakings.
Since its inception, the Regional Re-granting Program has grown steadily, adding new cities and regions to its national network each year. When COVID-19 hit and it became clear that artists needed a different kind of support, the Foundation's Board authorized a programmatic pivot; the existing 16 partners in the Regional Re-granting Program swiftly set up COVID-19 emergency relief funds to help artists cover basic living/medical/child-care expenses. Since April 2020, the Foundation's original 16 Regional Re-granting partners have disbursed over $1 million in emergency grants. Since March of 2020, the Foundation has doubled the number of re-granting partners in its network; 16 new programs will provide emergency funds to artists in their regions while many of the original 16 programs have already begun a second round of emergency grants. The 32 Regional Re-Granting Partners are as follows: Mobile, Birmingham & York (AL), Atlanta, Boston, Detroit, Baltimore, Chicago, Cleveland, Denver, Houston, Indianapolis, Kansas City, Los Angeles, Miami, Milwaukee, Minneapolis, Nashville, Newark, New Orleans, Oklahoma, Omaha, Phoenix & Tucson, Philadelphia, Portland (OR), Portland (ME), Providence (RI), Raleigh & Greensboro (NC), San Francisco, San Juan, (PR), Seattle, St. Louis and Washington D.C. Together these programs have supported well over 1,000 independent art projects in the past ten years, granting more than 4.7 million dollars.
Laura Copelin is Curator-at-Large for MOCA Tucson and Ballroom Marfa's Director-at-Large. She recently relocated to Arizona from Texas, where she was Ballroom's Executive Director & Curator. In Marfa she realized numerous exhibitions, commissions, installations, and publications in her five years with the art space including: the first US solo museum exhibition of Solange Pessoa, Longlilonge (2019); Candelilla, Coatlicue, and the Breathing Machine, featuring site-specific commissions from Beatriz Cortez, Candice Lin, and Fernando Palma Rodriguez (2019); the multidisciplinary, group exhibition and reader Hyperobjects co-organized with philosopher/professor Timothy Morton (2018); Tierra. Sangre. Oro. co-organized with rafa esparza, featuring esparza and Carmen Argote, Nao Bustamante, Beatriz Cortez, Timo Fahler, Eamon Ore-Giron, and Star Montana (2017); and six seasons of Artists' Film International, the international video art collaboration headed by Whitechapel Gallery, with Brigid McCaffrey, The Institute for New Feeling, Arjuna Neuman & Denise Ferreira da Silva, Jibade-Khalil Huffman, Carolina Caycedo, and a forthcoming nomination of Miguel Fernández de Castro (2015-2020). She is organizing The Blessings of the Mystery by Carolina Caycedo and David de Rozas, a commission-based exhibition focused on the landscape of West Texas for Ballroom, opening June 2020. She was previously Assistant Curator at the Santa Monica Museum of Art, and received a dual degree in Art and English from UCLA.
Kathleen Ash-Milby was appointed Curator of Native American Art at the Portland Art Museum in 2019. Previously Ash-Milby was an Associate Curator at the Smithsonian National Museum of the American Indian (NMAI) in New York where she organized numerous exhibitions including Transformer: Native Art in Light and Sound, with David Garneau (2017). International projects include SITElines Biennial: much wider than a line, at SITE Santa Fe (2016); and Edgar Heap of Birds: Most Serene Republics, a public art installationand collateral project for the 52nd International Art Exhibition / Venice Biennale (2007). Ash-Milby was the curator and co-director of the American Indian Community House Gallery in New York City from 2000–2005. She has published widely on contemporary Native American art, including essays in Art in America, Art Journal, and contributed to and edited numerous exhibition catalogues. A member of the Navajo Nation, she earned her master of arts from the University of New Mexico.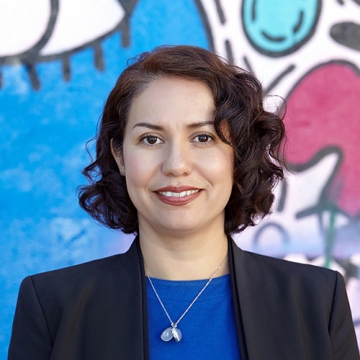 Marvella Muro is the Director of Artistic Programs and Education at Self Help Graphics and Art. She spearheads the long-standing Professional Print Program, Barrio Mobile Art Studio (BMAS), and SHG's multifaceted art and education programs. Since joining in 2019, she has curated ateliers and special projects in SHGs renowned serigraph studio established the Artists Committee to guide its monthly Artist Lab series. She also restructured its Artist in Residence program, now called Beyond the Press, inviting multidisciplinary artists to create a body of work with or guided by the SHGs community. As the head of education, she launched a Youth Committee and the Creative Lab partnership with the neighboring high school.
She was formerly the Community Engagement Manager at the Los Angeles County Museum of Art (LACMA), developing and executing art programs with community partners and artists in Compton, North Hollywood, and East Los Angeles. Prior to joining the Education team, she has various curatorial roles at LACMA and was Executive Assistant and project manager at USC Pacific Asia Museum in Pasadena. She has a B.A. in Art History from Cal State University, Fullerton, and an M.A. in Arts Management from Goucher College in Maryland.