May 9, 2020 – August 31, 2020
Online exhibition May 9 – Summer 2020

As part of its Museum From Home initiative during the Covid-19 pandemic, 516 ARTS presents concurrent digital exhibitions, Collage in Motion curated by Lisa Barcy and Cut Up or Shut Up! curated by Bryan Konefsky, along with a series of online collage-related programs opening on May 9, in conjunction with World Collage Day, an initiative launched by Kolaj Magazine.
Collage in Motion highlights the profound influence that animation has had on the medium; from Lotte Reiniger's silhouette animations from the 1920s and 1930s to the surrealist films of Joseph Cornell to Terry Gilliam's wacky introductions to Monty Python's Flying Circus to the array of commercials that use collage to tell a story. Animation provides collage artists a different way to tell stories and potentially opens new paths to sharing their work. Artists include: Jessica Ashman, Lisa Barcy, Miwa Matreyek, Laurie O'Brien, Gretchen Hasse, Jo Dery, Matt Marsden, Kathleen Quillian, Paloma Trecka, Jodie Mack, Amy Lockheart and Martha Colburn.
Cut Up or Shut Up!, features a selection of collage animations that was originally presented for the exhibition Alchemy in 2008. This international collection of collage films spans 70 years, and includes several of the "first wave" of collage animators who did this experimental work before the Internet. The program focuses on the cut and paste aesthetic. The title Cut Up or Shut Up! is based on a 1972 text of the same name by William S. Burroughs and Brion Gysin, in which the authors explored a cut-up technique of writing that they first popularized in the 1960s. Artists include: Clint Enns, Stan Brakhage, Bruce Connor, Jen Proctor, Santiago Alvarez, Chris Marker, Lotte Reiniger, William S Burroughs and Antony Balch, Wago Kreider and Virgil Widrich. Konsefsky says, "Collage films represent a profound sense of the cinematic in that they foreground ways in which disparate sounds/images are sutured together to create moving image stories."
Press
"Poetry in Motion: 516 Arts' Museum from Home offers collage animations", Michael Abatemarco, Passatiempo
"Making the cut: concurrent exhibitions look at the different facets of the art of collage," Kathaleen Roberts, Albuquerque Journal
LISA BARCY is an independent filmmaker and artist whose animated films have been screened internationally at film and animation festivals. She has been awarded the Director's Citation thrice at The Black Maria Film Festival, and Best Animation at both the Chicago Underground Film Festival and The Ann Arbor Film Festival. She's also created music videos for Andrew Bird and Thomas Comerford. Previously, she created large-scale puppets for Chicago theater companies including Redmoon Theater and Cabinet of Curiosity Events. While working on a film about 10 years ago, she accidentally began making collages and has been cranking them out ever since. Her new film The Ephemeral Orphanage, a combination of found images and stop-motion animation and is currently making the festival rounds. She teaches animation at DePaul University.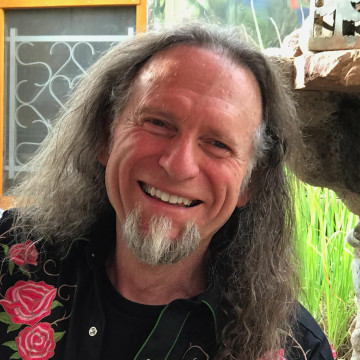 BRYAN KONEFSKY is the founder and director of Experiments in Cinema international film festival and the president of Basement Films (one of the few remaining first generation micro cinemas). He has lectured about alternative cinematic practices in countries such as Argentina, Cuba, Germany, Korea, Morocco, Russia, Scotland, Serbia and the UK. Konefsky's creative work has been presented at festivals and museums internationally and his creative research has been supported by organizations such as The National Endowment for the Arts, The National Endowment for the Humanities, The Trust For Mutual Understanding and the Banff Centre for the Arts.