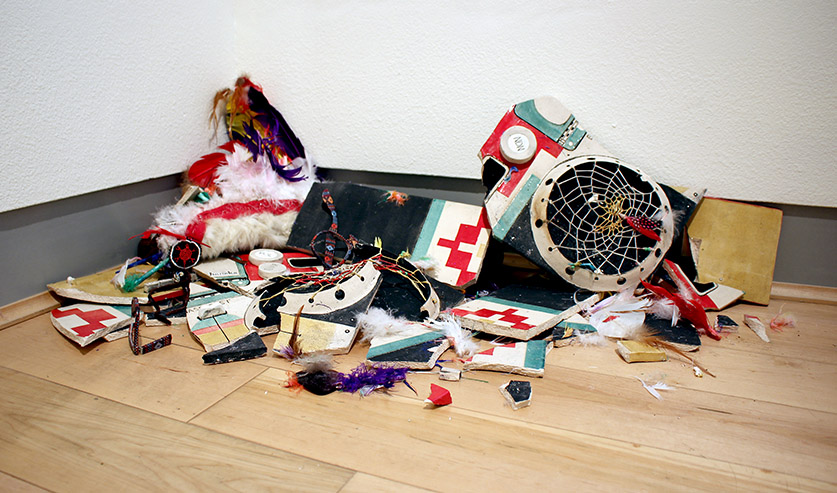 The Fulcrum Fund, developed and administered by 516 ARTS for the first time in 2016, was the newest partner in the Regional Regranting Program of the Andy Warhol Foundation for the Visual Arts. 516 ARTS launched the program in March 2016 with a call for proposals, from which the guest jurors selected 11 proposals to receive a total of $50,000 from the 89 proposals that were submitted. Applicants were from an 80-mile radius around Albuquerque, including Santa Fe, Jemez, Torreon, Los Lunas, Madrid, Ribera, Glorieta and Los Ranchos. The jurors were; Romi Crawford Ph.D., Associate Professor in Visual and Critical Studies and Liberal Arts at The School of the Art Institute of Chicago (SAIC); Al Miner, Assistant Curator of Contemporary Art at the Museum of Fine Arts (MFA), Boston; and Joey Reye, Curator of Engagement & Dialogue at Movimento de Arte y Cultura Latino Americana (MACLA) in San Jose, California.
2016 FULCRUM FUND AWARDS:
Russell Bauer
Albuquerque
The Edible Carnival
$5,000
The Edible Carnival is an ongoing sculptural research project in the form of a traveling farm comprised of surreal and spectacular implements of agriculture, food handling and food distribution. The Edible Carnival is an exploration of new and old technologies, performed and explained for a wide audience. In addition to staging The Edible Carnival in public locations for demonstrations and viewer interaction, artist Russell Bauer will create an open source database of technical documents for his Rotisserie Chariot and Rotisserie Rickshaw, two theatrical nomadic rotisseries that uses steam and thermoelectric power to cook food.
Sheri Crider
Albuquerque
LAUNCH Sculpture Residency at The Sanitary Tortilla Factory
$5,000
LAUNCH is the first chapter of an innovative residency project based at The Sanitary Tortilla Factory in downtown Albuquerque. A curatorial team will select two artists/groups to participate in two, six week projects that emphasize community engagement components. The program will focus on two types of sculptural production: waste stream utilization and socially engaged projects. The artists selected for the residency will be able to utilize the fabrication and exhibition spaces at The Sanitary Tortilla Factory (STF). The residency will consist of an exhibition, public talk and an educational component in which the artist will present material pertinent to waste and recycling to local high school students.
Ginger Dunnill
Glorieta
Broken Boxes Podcast
$3,500
Broken Boxes Podcast is an interview format project which highlights primarily Indigenous and activism-based artists who are affecting change through their work. This podcast platform allows for the artist to speak in their words, about their ideas. The question at the core of this project is simply: What makes the human make the art? In August of 2017, Ginger Dunnill and collaborator Cannupa Hanksa Luger will organize and exhibition of new works comprising 50 artists who have been featured on Broken Boxes Podcast since 2014.
Bradford Erickson
Albuquerque
The Small Engine Gallery
$5,000
The Small Engine Gallery is an alternative exhibition/multi-use space that is dedicated to creating new opportunities for local artists to bring their practice out of the studio and into an open format creative space. Lead artist Bradford Erickson and collaborators Jackie Riccio and Luke Hussack work to foster the creativity, personal expression and artistic development amongst the community by focusing on the education of both students and emerging artists on the finer points of being a practicing artist. This award from the Fulcrum Fund will go towards general operating expenses for their 2016/2017 exhibition schedule and allow the Small Engine Gallery to continue to their mission of supporting local artists by providing a space to present their work free of charge.
Roberto Espinosa
Albuquerque
SHE/RIDER
$5,000
Lead artist Roberto Espinosa, cinematographer Michael Powers and sound engineer Christopher Robleto-Harvey, will explore gender diversification in car culture in their project titled SHE/RIDER. The male, Latino-dominated "boys club" of low-riders has witnessed a paradigm shift: women creating show-worthy muscle cars. Once relegated to the role of "cheese cake" pinups, women are now revving V-8 engines and starting their own car clubs. This work explores the community of these women. The project will be featured as a multi-media construct: various platforms become its voice and venue. The viewer can visit an interactive website, listen to interviews and see the cars. Car clubs will share content online and still photographs will be shown in various venues.
Jane Gordon
Albuquerque
What Becomes
$3,600
Acknowledging the often collaborative nature of ceramics, artists Jane Gordon and Jennifer DePaolo will gather neglected plaster molds from collections around the city, and invite the public to create communal sculptures by pressing clay into them to capture their form. This newly re-appropriated odd cast of characters left behind from late 20th century knickknack manufacture will be transformed into a sculptural installation that reveals new truths about our culture, identity and agency.
Aryon Hopkins
Albuquerque
DRY MTN
$4,700
Lead artist Aryon Hopkins and collaborators Jesse Littlebird and Eric Martinez will create a large format printed publication focused on photography and screen printing that will be distributed for free throughout the city. To celebrate the launch of each issue, popup printing parties will provide a unique opportunity for the public come together to screen print additional graphics and content from participating artists onto each publication and assemble each issue for themselves.
Candice Hopkins
Albuquerque
Off Lomas
$5,000
In December 2015, a privately-owned narrow strip of land (an "odd-lot," left over from the widening of Lomas Blvd), was transformed into a site to exhibit public art. Off Lomas hosts temporary artworks by four artists per year. Off Lomas curators Candice Hopkins and Raven Chacon will use funds to support artist fees, materials, and marketing for works by leading international and local artists Jimmie Durham, Rebecca Belmore, Ellen Babcock, Jason de Haan & Miruna Dragan, and Black Spirituals.
Marya Jones
Albuquerque
ABQ Zine Fest (ABQZF)
$4,700
ABQ Zine Fest is an annual, free public event that celebrates DIY (do-it-yourself) and unconventional artistic expression. Albuquerque's vibrant zine and independent publishing culture is inclusive of professionally-trained, self-taught and amateur artists alike, all of whom are committed to community, intellectual and artistic exchange. Now in its 6th year, it is the only festival in New Mexico for zinesters to meet, exchange and discuss their work with the public, and to form new creative collaborations, yielding further artistic exploration. ABQZF allows artists a platform to present their work whose mode of production and subject matter often exists outside of mainstream gallery and museum systems. Through workshops, discussions and the exchange of ideas, ABQZF nourishes the expansion of zine creation in Albuquerque and highlights the innovation and diversity found in zine making.
Billy Joe Miller
Albuquerque
Loie Fuller-inspired performance/installations
$3,500
Lead artist Billy Joe Miller and collaborator Allie Hankins will create an outdoor performance and installation inspired by their mutual interest in Loie Fuller. As a pioneer of modern dance, Fuller is best known for her way of manipulating voluminous folds of silk illuminated by colored light. As a means of combining shared interests of dance/performance, textiles as the transformative capabilities of costuming, light installation, feminism and/or the queering of the feminine in relation to the male gaze, Miller and Hankins will present a performative meditation on these themes that will manifest as an opulent, textured, and immersive performance and installation that interweaves respective art practices.
Daisy Quezada
Santa Fe
Present Cartographers
$5,000
The collective, Present Cartographers (Daisy Quezada, Lois Klassen & Sylvia Arthur), will develop a publication exploring artistic responses to the timely and controversial issue of immigration/emigration. Focusing on art made in and about Albuquerque's border zone region, this team of artists and writers emerging from Santa Fe Art Institute's (SFAI) "Immigration / Emigration" thematic year in 2015/2016 will produce an innovative collection of texts and print-based artworks.
2016 Jurors:
Joey Reyes is Curator of Engagement & Dialogue at Movimento de Arte y Cultural Latino Americana (MACLA) in San Jose, CA. He organized the exhibitions Unmasked, Breaking points, Voces de Deierto (Voices of the Desert) featuring Guillermo Galindo and Quinteto Latino; PLACAS: The Most Dangerous Tattoo, by Paul S. Flores and featuring Ric Salinas of Culture Clash; and, City Portraits (Retratos de Ciudad) a solo exhibition by Marcos ERRE Ramirez. He serves as MACLA's representative to the National Performance Network and Visual Artists Network.
Romi Crawford, Ph.D. is Associate Professor in Visual and Critical Studies and Liberal Arts at The School of the Art Institute of Chicago (SAIC). Her research revolves around formations of racial and gendered identity and the relation to American film, visual arts and popular culture. She was previously the Curator and Director of Education and Public Programs a the Studio Museum in Harlem and founder of the Crawford and Sloan Gallery (NYC). Her publications include writings in Art Journal; Cinema Remixed and Reloaded Black Women Film and Video Artists; Black Light/White Noise: Sound and Light in Contemporary Art; Frequency; Art and Social Justice Education: Culture as Commons and Service Media.
Al Miner is Assistant Curator of Contemporary Art at the Museum of Fine Arts, Boston, where he has curated numerous exhibitions. Prior to the MFA, he worked at the Hirshhorn Museum and Sculpture Garden and the Smithsonian Institution's Museum of Modern and Contemporary Art in Washington, D.C. where he curated projects with Dan Graham and Yoko Ono. He has received fellowships from the Association of Art Museum Curators (AAMC), Goethe-Institut in Washington, D.C., the American Alliance of Museums (AAM), Artis Foundation, the D.C. Commission on the Arts and Humanities and the Smithsonian Institution among other honors.

Image: Cannupa​ ​Hanska​ ​Luger,​ ​​Untitled​ ,​ ​ceramic,​ ​mixed​ ​media. From the 2016 exhibiton, Broken Boxes organized by 2016 Fulcrum Fund recipient Ginger Dunnill