Environmental Resiliency & Nonlinear Creative Research
An evening with Nina Elder and Lucy Lippard at 516 ARTS

Closing event at 516 ARTS for HABITAT: Exploring Climate Change Through the Arts
516 ARTS welcomed two treasures of the New Mexico art world — artist Nina Elder and writer Lucy Lippard — for a special talk at 516 ARTS for the close of the season-long project HABITAT: Exploring Climate Change Through the Arts. In Elder's work, she explores historic land use and questions the resiliency of a natural environment barraged with industrial voracity. As a participant in the Anchorage Museum's Polar Lab, she has made two research trips to remote parts of Alaska and will share stories of that experience. This presentation was part travel log and part poetic narrative, weaving together her father's secret military history, climate change, Native cultures and assumptions about the North. She was joined by acclaimed writer, activist and curator Lucy Lippard in exploring this nonlinear form of personal exploration and creative research. 
---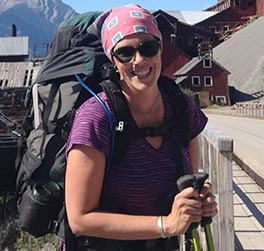 Nina Elder is an artist, adventurer, and arts administrator. Her work examines the visual evidence of land use in the American West and its cycles of production, consumption and waste. Her work is exhibited and collected nationally, and has been featured in publications such as Art in America, VICE, and New American Paintings. After earning her MFA from the San Francisco Art Institute, she returned to northern New Mexico where she co-founded an off-the-grid artist residency program called PLAND: Practice Liberating Art through Necessary Dislocation. She currently serves as the Residency Director at the Santa Fe Art Institute.  


Lucy R. Lippard is a writer, activist and curator. Since 1966, she has published twenty-four books on contemporary art and cultural studies, most recently Undermining: A Wild Ride through Land Use, Politics, and Art in the Changing West. She has co-founded various artists groups (including Ad Hoc Women Artists Committee, Heresies, Printed Matter, PADD, Artists Call Against US Intervention in Central America) and has curated some fifty exhibitions. She lives in Galisteo, New Mexico, where she has edited the monthly community newsletter for 19 years, serves on the Water Board and is active in community planning and land use issues.
---
Images: (top) Nina Elder, Kennecott Corporation: Bingham Canyon Mine, 2015, graphite and rock powder on paper, 48" x 48" • (bottom) Nina Elder • Lucy Lippard, photo by Judy Tuwaletstiwa